Leeds Driving Lessons
Learn To Drive And Experience The Freedom Of The Open Road
Driving is an essential skill that can help you achieve independence and freedom. You could be taking driving lessons as you have to commute to work, to pick up your children at school or to simply make it easier to get to where you need to be. Our professional and friendly driving instructors are here to help you.
We welcome all levels of learners, from students just 17 who want to start lessons, to those who need our other driving lesson packages.
Driver and Vehicle Standards Agency (DVSA) Approved Driving Instructors
Our Driving Instructors are approved by and registered with the Driver and Vehicle Standards Agency and provide high-quality driving lessons in Leeds to drivers of all ages, abilities and levels. Driving lessons are available for beginners, experienced drivers, and those who are returning to the road after a break. You'll feel calm, safe and confident while driving, no matter your age.
No matter what your reason for learning, our driving instructors will help you pass your driving exam as fast and cheaply as possible. They can provide you with a range driving lessons and courses that will help get your driving licence in the shortest time possible.
If you choose to learn with one our driving instructors in Leeds, then you can rest assured that you are in the hands of a professional driving instructor who is qualified to help you improve your driving skills and teach you to drive safely. They aim to make you a competent and confident driver.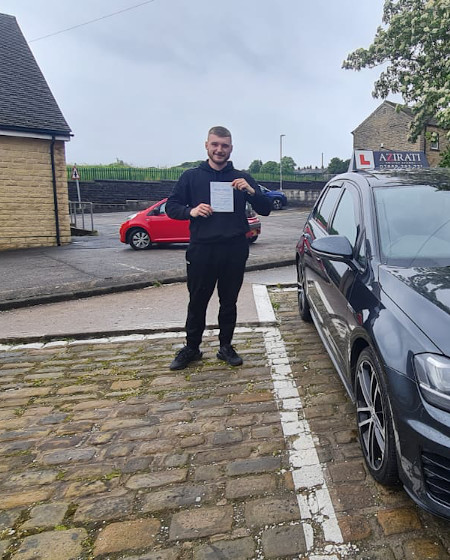 Your First Leeds Driving Lesson
Your driving instructor will begin with an introduction chat to learn about your driving skills and experience. No need to worry if you've never taken driving lessons before as the majority of our customers do not have any prior driving experience. They will then check your provisional driver's license, perform an eye-check, and then discuss the basics of the car you will be learning in.
Local Leeds driving instructors know the area better than anyone. Your driving lesson will begin in a quiet area away from cars and other road users, so that you can slowly build up your confidence. First, you will learn how to use the pedals, steering, clutch control, moving away and stopping. As you gain driving proficiency, you'll be faced with new challenges.
Your instructor will carefully plan each lesson route to ensure you drive through all the junctions, roundabouts and pedestrian crossings with ease.
You must learn to drive safely right from the start. Bad habits can be difficult to break. Our driving instructors have the expertise to teach you everything you need to pass your driving test and be safe on the roads. They have extensive experience and knowledge of driving that they will use to help make you a confident and safer driver.
Your driving instructor will provide a written log of your driving progress. Your progress record will include all the topics that you must master in order to drive safely throughout your driving career. These techniques include parallel parking, turning in the road (3 point turn), reverse around corners and emergency stops. This will tell you where you are at the moment and what you need to do to improve.
If you're looking for Driving Lessons in Leeds we can help, get in touch today to book your first lesson
How to Choose A Driving Test Centre
The choice of a test centre is up to you, but it can have an impact on how you perform and whether you pass. We recommend that you choose a test centre closest to where you have had your driving lessons. This will allow you to be more familiar with the roads and the surrounding areas when you take your driving exam.
If you're looking for Driving Lessons in Leeds we can help, get in touch today to book your first lesson
Learning To Drive FAQs
How many driving lessons do I need to pass my driving test?
Each person is different so can require a different number of lessons to pass their driving test. However, research has shown that most learner drivers need between 40 and 50 hours of driving tuition to pass their driving test.
Is a driving instructor necessary to learn how to drive?
It is crucial that you learn how to drive safely right from the beginning of your driver training. Bad habits you pick up are very difficult to stop and you could fail your test through them. Driving instructors are specially trained to help you feel confident, safe and pass your test.
What are the things I should bring to my driving lesson?
You will receive a written record from your driving instructor detailing your progress. This record will list all topics you need to know in order to pass your driving test and drive safely for the rest your life. This will cover skills like turning in the road (3 point turn), reverse around a corner, emergency stop and parallel parking. The record will show where you are at the moment, what you need to do next, and any weaknesses.
What can you expect when learning how to drive in Leeds?
Driving lessons begin on the back roads of Leeds to gradually increase your confidence in quiet surroundings. To help you feel comfortable driving, the focus will be on basics like steering and clutch control. As you improve your driving skills you will become more proficient at driving in busier environments. You will learn to drive through many junctions, roundabouts, and pedestrian crossings within your lesson route.
What is a crash course driving UK?
What is an intensive driving course, exactly? Intensive driving lessons are a route some people take who want to get their licence as quickly as possible. These can sometimes be daily lessons between two and five hours long, and typically two weeks.
How long does it take to get comfortable driving?
It takes the average person about six months to get used to driving, so it might take some time and patience for you to get comfortable with driving. It's okay if it takes you a little longer, too! The average person will drive for about 40 hours within that six months.
Does driving get easier?
The good news is that driving gets easier with time. The keys are to practice and drive where you feel the most comfortable. By continuing to drive and fighting through negativity, you can build confidence. Confidence is the defining factor between good drivers and poor drivers.
Other areas near Leeds we cover include:

If you're looking for Driving Lessons in Leeds we can help, get in touch today to book your first lesson